Kabbalah Energy Drink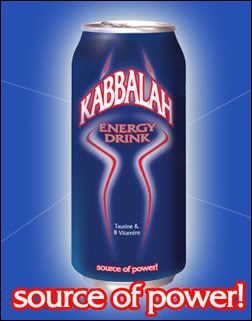 I should start a section called 'Crazy Things I Heard Around The Shabbos Table.' So today, I found out those crazy
Kabbalah Center
people have started producing an energy drink. I got the following info from DailyOrange.com (via a Google search):

Kabbalah Energy Drink

Claim to fame: It is said to be made with water blessed by a rabbi and has healing powers. It is used by stars who practice Kabbalah, such as Madonna.

Active Ingredients: High fructose corn syrup, citric acid, Kabbalah water

Brought to you by: Kabbalah international. Web site: Kabbalah.com

Student thoughts: "I think it is ridiculous. I would intentionally not drink it because I don't understand or agree with its connection to Kabbalah," said Sara Beckerman, a sophomore communication sciences and disorders major.

Price: Only about $2.00 for 12 oz. of mystic healing powers. Wow!

"Wow!" indeed. I wonder if it's even kosher. I don't know whether to laugh or cry. No, jay kay. Anyway, for more info, check out
KabbalahEngergyDrink.com
, or click
here
, or
here
, or do a Google search.